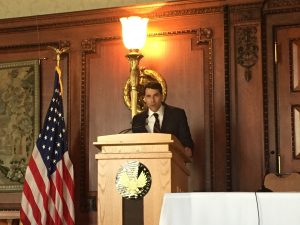 On December 6, 2022, Jérôme Beaumont, Executive-Secretary of the Egmont Group (EG), participated in the Illicit Finance Stream during the Parliamentary Intelligence – Security Forum at the United States Congress in Washington, D.C., which gathered 190 parliamentarians and representatives from 50 countries.
Mr. Beaumont presented the EG's role as the unique global organization facilitating operational information exchanges, expertise sharing, and capacity building among its 166 Financial Intelligence Unit (FIU) members worldwide.
He highlighted several key EG deliverables, including two joint EG/Financial Action Task Force reports on trade-based money laundering trends and digital transformation and one joint EG-World Customs Organization report on customs-FIU cooperation.
Mr. Beaumont then showcased the importance of intelligence exchanges among FIUs, combined with tight cooperation with law enforcement & the private sector, as key to unveiling money laundering and terrorist financing networks.
In closing, he reshared some striking figures underlining the critical issue of FIU resources:
G20 FIUs aggregate 3350 FTE (Full Time Equivalent), less than the compliance resources of one single global bank.